18 wheeler carrying pipe hits vehicle on North 610 Loop
A big rig crashed into a passenger vehicle on the 610 North Loop yesterday morning at around 9:30 a.m. shutting down all westbound lanes at 610 and I-45 North. Investigators believe the rainy conditions were a factor in the crash: the 18 wheeler slid on the roadway and the truck driver lost control and hit the other vehicle. The load of pipes spilled from the 18 wheeler's trailer and onto the freeway. Channel 2's story did not include a great deal of detail, but the driver's injuries are reported as being non-life threatening.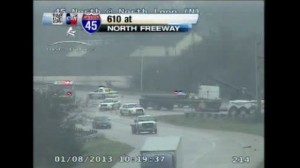 If you have been seriously injured in a collision with an 18 wheeler or other commercial vehicle, and you are seeking legal representation to protect your rights, experience counts. Insurance companies that write insurance policies, sometimes providing several million dollars of coverage, immediately begin investigating serious injury accidents. In Smith & Hassler's opinion, they "investigate" for ways to avoid paying a fair and reasonable settlement. Four of the six trial attorneys at Smith & Hassler are Board Certified by the Texas Board of Legal Specialization in Personal Injury Trial Law. Smith & Hassler's Houston personal injury attorneys have represented injured people and their families since 1989, and our firm has the resources to prosecute large claims. Visit www.smithandhassler.com or click here to contact us about your case and to request a no charge consultation.
Tags: 18-wheeler accident, 610 North Loop, Houston