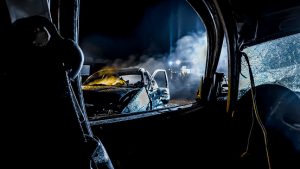 As part of its Out of Control series, the Houston Chronicle cites 640 deaths and 2,850 injuries on Houston-area roads in 2017. The staggering number of devastating crashes is attributed to a culture of "speed and convenience" that sees traffic accidents as an acceptable norm.
Dangerous driving behavior doesn't always involve driving under the influence of alcohol or taking outrageous risks on the road. In most cases, it involves cumulative habits of inattentiveness and failing to comply with traffic laws often deemed trivial.
Most drivers who have developed poor habits behind the wheel are under the impression that a serious crash will never happen to them. Many of them have been driving distracted or ignoring traffic laws for years without any issues.
According to a "Traffic Safety Culture" survey conducted by the American Automobile Association (AAA) in 2017, nearly 45 percent of respondents admitted to reading text messages or emails while driving within the past 30 days. Moreover, nearly 35 percent admitted to sending text messages or emails while driving during the same time period.
It should be of no surprise that the survey also found that more than more than 21 percent of participants reported having been in a traffic accident in which at least one party had to go to the hospital. More than 11 percent were seriously injured themselves.
In 2018, the greater Houston area saw a 20 percent reduction in traffic fatalities, most notably due to programs that addressed driver awareness, quicker responses to highway accidents, and a decline in impaired driving.
In order to continue this upward trend, the Chronicle article suggests the following driving practices:
Paying attention to driving only
Reducing speed around potential hazards and blind corners
Maintaining a safe following distance from other vehicles
Looking out for pedestrians in crosswalks
Pulling over and taking a rest if drowsy
Wearing seat belts
Driving sober
In addition to practicing these safety habits, motorists should develop a new mindset towards driving. Rather than accept that accidents will simply happen, drivers can focus on what they can do to keep our roads safer.
Unfortunately, the message won't reach everyone. There will always be some drivers who will continue to engage in distracted behavior, drug and alcohol impairment, and overall recklessness. That doesn't mean you should have to pay for the negligent actions of others.
If you or a loved one sustained injures in a crash, don't wait to act. An experienced Houston auto accident attorney at Smith & Hassler Attorneys At Law would be glad to sit down with you and discuss your legal options. To learn how we can help, contact us today.