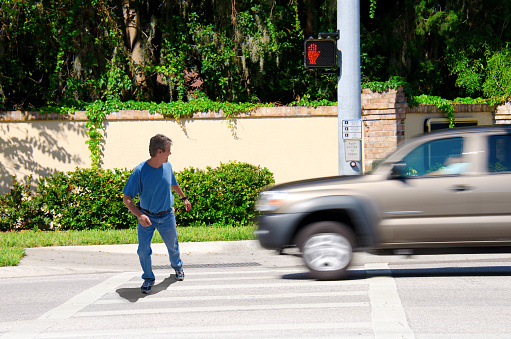 Texas continues to be a deadly place for pedestrians. Pedestrian fatalities in Texas totaled 621 in 2018, six more than the 615 fatalities in 2017, according to Houston Public Radio and the Texas Department of Transportation (TxDOT).
The Lone Star State's pedestrian deaths in 2017 accounted for 10 percent of America's total.
The most dangerous roads in the nation
TxDOT reported that there were no deathless days on Texas roadways in 2018, meaning that each day saw a death or deaths of pedestrians or car occupants.
Estimates from state and local officials to the federal government project 635 pedestrian fatalities in Texas in 2020, 657 in 2021 and 680 in 2022, according to The Fort Worth Star-Telegram.
From 2008-2017, Texas was among the 20 most dangerous states in America in terms of pedestrian fatalities with 4,831, topped only in that period by California's 7,127 and Florida's 5,433. That's according to the Pedestrian Safety Index compiled by advocacy groups Smart Growth America and the National Complete Streets Coalition.
Texas and four other states — Florida, California, Georgia and Arizona — accounted for nearly half of the 6,227 pedestrian accident deaths in the United States in 2018, said the Governors Highway Safety Association.
Among the factors that make Texas dangerous for pedestrians, according to the media and government reports:
Drivers distracted by using cell phones, applying cosmetics, eating, petting dogs and performing other activities
An increase of SUVs and other larger vehicles on the roads
Population growth that has more people out walking
Contentions from critics that projects to make roads, intersections and driver behavior safer for pedestrians are underfunded
Pedestrians who themselves are walking distracted and sometimes step into traffic
Speeding
Alcohol impairment
Too few crosswalks that make them too far a walk for some pedestrians. Research has found most people will walk only 300 feet to the nearest crosswalk
In Dallas, streets are dangerous for pedestrians because they often feature multiple lanes of high-speed traffic without a significant buffer. While most pedestrian accidents happen in places where high numbers of walkers, cars and trucks come together, pedestrian deaths are most likely when people on foot walk near cars moving at high speeds, according to the Dallas Observer.
TxDOT plans to dedicate $600 million for improvements along roadways for:
Widening roads
Adding rumble strips along center lines and shoulders to help drivers
Adding and reinforcing shoulders along roadways
Adding select turn lanes
Making technological improvements
Pedestrian fatalities on the rise
From 2008-2017, pedestrian accident deaths in the U.S. increased 35 percent, to 5,977 from 4,414, according to a Governors Highway Safety Association report.
After adjusting for anticipated underreporting in some state data and considering trends in pedestrian fatalities, the report estimated the number of pedestrian accident deaths nationwide in 2018 to be 6,227.
That puts pedestrian deaths at a near-30-year high, given that 6,482 pedestrian accident deaths occurred in 1990, according to commonwealthmagazine.org.
Contact the car accident lawyers at Smith & Hassler Attorneys At Law in Houston, Texas today if you've been injured in a pedestrian accident.