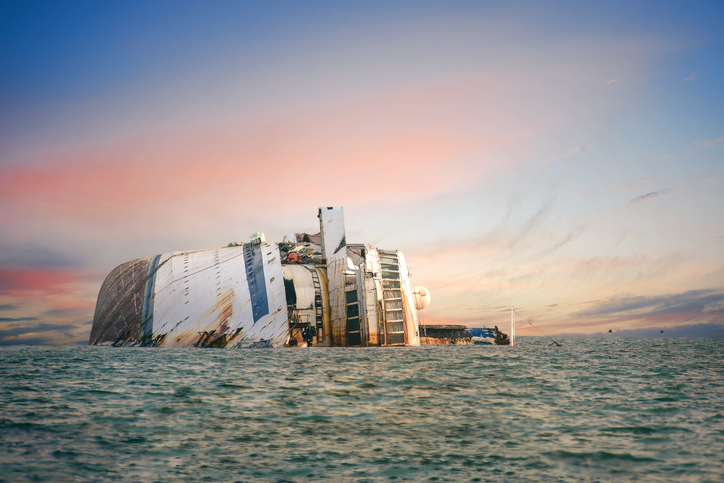 On April 14, we were rocked by the news that the lift boat Seacor Power had capsized in the Gulf of Mexico, south of Port Fourchon, Louisiana, with 19 crew members aboard. On April 19, we were saddened to hear that the Coast Guard would halt the search and rescue process, with six of the crew rescued, five confirmed dead, and eight still missing.
Unfortunately, some risk is inherent in maritime work, but maritime companies also have a legal responsibility to keep their employees safe. While the reasons the Seacor Power capsized are still under investigation, the incident underscores the importance of seamen's rights under maritime law – and the need for those rights to be protected.
Ships capsize for many reasons, but most are linked to negligence
Even a large and well-engineered vessel can capsize under some circumstances, and most such accidents are preventable. The main reasons ships capsize include:
This was a major factor in the Seacor Power's capsizing, with 80 to 90 mph winds and seven- to nine-foot seas at the time the vessel overturned. While no one can control the weather, weather-related incidents are often preventable. Storm tracking and navigation allow ships to avoid hazardous situations, and ships themselves can be engineered to cope with storms and rough waters. It's also important to rapidly react to changing circumstances at sea.
When a ship collides with a dock, bridge, rock, reef, or another vessel, a hole can be ripped in the hull. A ship that starts taking on water is at immediate risk of capsizing.
Taking on water starts a chain reaction that can result in sinking or capsizing. The more water a ship takes on, the less buoyant it becomes, which causes it to sink deeper and potentially take on more water. Flooding can occur due to weather, collisions, or leaks in the hull.
Shifting cargo. When cargo isn't properly secured, it can move around below decks. When enough weight moves to one side or the other, the entire ship can become unstable and overturn.
Human error. Ultimately, it's the responsibility of both the maritime company and the captain of the ship to make decisions that minimize the risk of capsizing.
Victims and their families have legal rights
When a ship capsizes and seamen are injured, they have recourse under the Jones Act, as well as general maritime law. The Jones Act allows injured seamen to take legal action against their employers to recover damages (financial compensation) for lost earnings and lost earning capacity; past, present, and future medical expenses; and pain and suffering. These damages can be substantial, particularly if an injured seaman is left permanently disabled or develops a medical condition, such as chronic pain.
In addition, the Death on the High Seas Act (DOHSA) allows families who have lost a loved one to recover "pecuniary damages," meaning losses the family members have sustained due to the death that can be calculated with a degree of precision. For instance, it's possible under the DOHSA to recover damages for lost financial support provided by the person who died, but not for loss of intangibles, such as care and companionship. However, the Jones Act provides significantly more expansive death benefits when the deceased seaman's employer is responsible for the death. For instance, if a seaman dies in a collision between two vessels, the deceased seaman's family could take legal action against the seaman's employer under the Jones Act and the other ship's owner under the DOHSA.
On the other side of a personal injury or wrongful death claim is the Shipowner's Limitation of Liability Act, which the owner of the ship can invoke to limit their liability to the post-accident value of the vessel. When a ship capsizes or sinks and becomes worthless, this is potentially devastating. However, the Limitation of Liability Act has its limitations, and an experienced maritime injury lawyer can take legal action to defend against petitions to limit liability.
In short, if you were hurt or lost a loved one when a ship capsized, you need to seek legal advice right away. Our attorneys will listen to your story and work with you to determine your best path forward under maritime law. We would be honored to discuss your legal options in a free consultation.