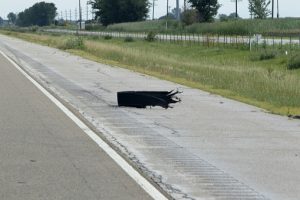 You don't always see it coming. Objects, small and large, laying in Houston's roadways that simply don't belong there. Road debris can include small metal objects that cause tire blowouts. They can also be larger objects that obstruct traffic – causing drivers to stop abruptly or swerve.
Road debris, a growing danger
ABC 113 Eyewitness News reports that road debris is a growing problem in Houston. Robert Henry, a member of the Texas Department of Transportation (TxDOT) road debris cleanup crew, says, "Daily, we pick up anywhere between 2 to 5 cubic yards of material."
Cleanup crews have found furniture, kids' items, household appliances, tires and tire treads. Within the last six months, several traffic accidents or near accidents were attributed to road debris.
AAA reports that from 2011-2014, road debris was a contributing factor in over 200,000 traffic accidents, with 39,000 injuries, and 500 fatalities.
In order to stay clear of road debris, TxDOT and AAA suggest that drivers:
Remain alert, avoid distracted driving, and keep both hands on the wheel
Maintain a safe following distance of at least 2-3 cars, in case debris falls off a vehicle
Don't swerve or over-correct – this is the cause of almost 37% of road-debris related fatal crashes
Who can be held accountable in crashes related to road debris?
In many cases when debris is dropped on Houston roadways, the owner of the vehicle is unaware of it and continues driving. When an item falls out of the back of another vehicle, it can strike the vehicles that follow. Some objects can even pierce through the windshield and injure vehicle occupants. In this case, the vehicle and driver can be identified and held accountable for improperly loading cargo.
If debris is left on the road for a long period of time without a known source, the local or state municipality in charge of clearing debris from the road may be responsible. Municipal negligence only applies if the debris was already identified but nothing was done to clear it.
If you have been involved in an auto accident due to road debris, it's important to speak to an experienced Houston attorney who knows how to handle complex cases such as yours. Identifying where negligence occurred may take some digging. This includes extracting evidence from a detailed police report, witness statements, and possibly surveillance camera footage.
Let the legal team at Smith & Hassler Attorneys At Law work for you. Contact us today to schedule a free case evaluation.