18-wheeler wreck shuts down Houston's 610 west loop today
A six vehicle accident that included a big rig shut down Houston's 610 west loop today at Beechnut Street in southwest Houston. News Channel 2 has a slideshow showing pictures of the accident which included an 18-wheeler apparently pinning a Chrysler car against the concrete center divider and lifting the car off the surface of the road. The collision apparently happened at 2:30pm today, but the freeway had been cleared and reopened by 3:45pm. At the time of Channel 2's report, there was no word of any injuries to the drivers involved: hopefully nobody was hurt even though the accident looks serious.  As is customary when a major wreck happens on one of Houston's main thoroughfares, traffic was backed up for miles.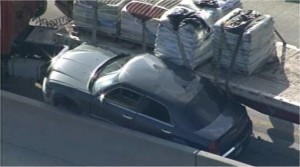 Smith & Hassler has represented hundreds of Texans injured in 18-wheeler accidents over the firm's 20+ year history. If you or a loved one has suffered injury in an accident with a big rig, Smith & Hassler's personal injury attorneys will review your case at no cost, no strings attached, either in person or by phone.