2 killed in high speed single car accident when Camaro wrecks on Bering in Houston
FOX News Houston is reporting a single car crash that killed both the driver and a passenger. The crash was witnessed by an off duty police officer. The wreck happened at around 2:30am Sunday September 18, 2011 when the new-style white-colored Chevrolet Camaro tore through a 30 MPH zone at an estimated 80 MPH. The Camaro was traveling south on Bering when it hit a curb near Doliver then collided with a light pole and a brick wall. The female driver and the male passenger both died at the scene: the male passenger was ejected from the Camaro during the collision. The medical examiner's office will test the female driver for alcohol. A photograph of the wrecked Camaro shows extremely heavy front-end damage.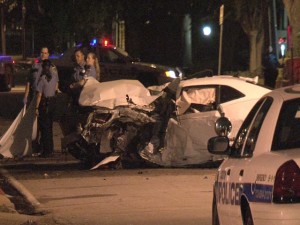 If you, a friend or a family member have been injured in a car accident, Smith & Hassler's experienced personal injury attorneys are available to give you a free consultation either in-person or by phone.  Sometimes people injured in car accident wait before consulting an attorney. They have good intentions: not wanting to seem "sue happy," waiting to see if their injuries will get better or because an insurance adjuster is discouraging them from seeking legal advice (that happens).  It is better to know your rights early in the process and have an experienced Houston personal injury attorney explain the steps involved in car accident injury claim and what you can do NOW to increase the chances of a good outcome.