Barry Lewis Andrews charged in fatal pile up on Sam Houston Parkway
A multi-vehicle pileup on the Sam Houston Parkway on Saturday left two people dead and several others injured. The accident happened at around 11:30pm on Sam Houston Parkway near Veterans Memorial. Channel 13 is reporting that the wreck involved a total of five vehicles and that a suspected drunk driver is being blamed. Tragically a brother and sister in their 20's were killed in the crash: they have been identified as 27-year old Erica Montez and 24-year old Nick Montez. Sunday evening the Harris County Precinct 4 Constable's Office announced that 55-year old Barry Lewis Andrews has been charged with two counts of intoxication manslaughter for the accident. Andrews is from Hockley, Texas.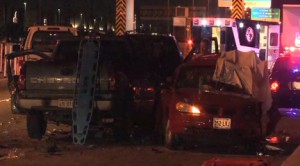 Driving While Intoxicated (DWI) car accidents seem to happen every single night in the Houston area and throughout Harris County.  Sadly Harris County Texas ranks among the highest counties in the nation for drunk driving fatalities and drunk driving accident injuries year after year.  Drunk driving car accidents often create even more complications for the victim than a regular car accident: insurance companies usually won't pay a claim or provide a rental car until they speak to their insured driver and get their version of what happened. The insurance company can't do that if their insured was charged with DWI and is in jail. Call Smith & Hassler if you have been injured by a drunk driver's gross negligence and ask for speak to one of our personal injury attorneys right now.  Smith & Hassler aggressively pursues claims against drunk drivers.