Car accident at Stripes gas station in Spring injures several
Tuesday July 22, 2014: an SUV crashed into a Stripes gas station around 2:30 p.m. on Falvel Drive at Stuebner. A green-colored SUV heading northbound on Falvel Drive went through the intersection and into the Stripes parking lot. A 79-year old pedestrian was struck by the SUV, which then hit another vehicle head-on that was parked at one of the gas pumps. The elderly man was taken via helicopter to Memorial Hermann and two people in the parked SUV were taken by ground ambulance to Memorial Hermann in The Woodlands.
Update: 73-year old Carol Exley and her 81-year old husband Dale Exley are identified in a local news story as having been injured in the crash. Dale Exley, who was standing behind the couple's Ford Escape SUV when the incident occurred, was thrown into the air. He is in hospital in critical condition and suffered a fractured vertebrae, broken ribs and a brain bleed. It is thought that the 65-year old woman who lost control of her vehicle may have experienced a medical event prior to the crash.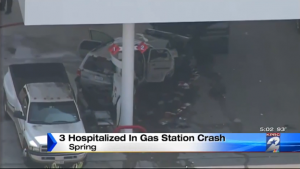 The Smith & Hassler law firm has represented injured people since 1988. The firm has four attorneys who are Board Certified in Personal Injury Trial Law. If you have been injured in a motor vehicle accident, call to arrange a no-charge consultation, in person or by phone.
Tags: car accident, Carol Exley, Dale Exley, Falvel, Spring, Stripes gas station, Stuebner