Car accident on Little York sends HPD officer to hospital
A Houston Police Department patrol officer was transported to the emergency room by ambulance after a near head-on car accident on Little York Road near Aldine-Westfield. Around 5:30 p.m. a gold-colored Mercury sedan attempted to make a left turn across oncoming lanes, causing the collision. KHOU's report did not list the officer's condition, but the ambulance got a police escort to the hospital.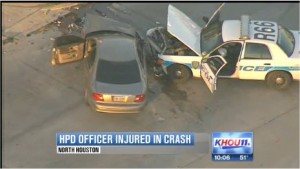 The Smith & Hassler Houston personal injury law firm is celebrating 25-years in business this April!
Tags: car accident, HPD, Little York Road, police officer