Child seriously hurt when bicycle struck by Dodge truck on Kuykendahl Road
There was a collision between a Dodge Ram pickup truck and a
child on a bicycle
at around 5:30pm on Thursday March 22, 2012 and the child is in critical condition. Three children on bicycle were attempting to cross the street when one of them, a boy, was hit. According to Harris County Sheriff's deputies, the boy suffered some cuts and bruises and a serious head wound. It is not expected that the driver will be charged because the boy was not in a crosswalk at the time of the crash. 
Channel 2's coverage of the bicycle accident is here
. Smith & Hassler's experienced
injury attorneys
represent people in Houston and throughout Texas for injuries sustained in
bicycle accidents
.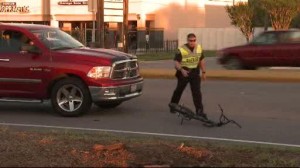 Tags: accident, bicycle, Kuykendahl