Deadly car accident on North Main in Baytown
Police believe speed and possibly alcohol may be the causes of a deadly
car accident
on North Main Street near Archer in Baytown yesterday. Police say that around 5:00 a.m. a 22-year old male was
driving at excessive speed
on North Main in a black-colored Honda Civic when he drove the car off the road and into a ditch, launching the car airborne and into a power pole before the Civic came to rest on its roof. Investigators say the driver was killed in the accident. Two women aged 21 and 22 were passengers in the car: they were in serious condition and were taken by life flight helicopter to hospital.
Channel 2's story
did not include the names of the people involved, and mentions that police think
alcohol may have been involved
.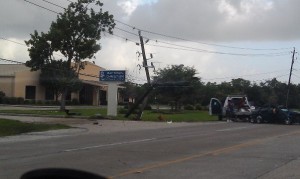 Tags: baytown, car accident, Honda Civic, North Main