Dump truck versus MetroRail collision injures 15 at Main and Capitol in downtown Houston
At around 9:00am this morning there was a collision between a dump truck and a MetroRail train at the intersection of Main and Capitol in downtown Houston. According to a Channel 11 story on the crash, the train became derailed when the dump truck, heading west on Capitol, ran a red light and caused the collision. A total of 15 people were taken to Ben Taub and St. Joseph's Hospitals, including the drivers of the MetroRail train and the dump truck. The dump truck reportedly came close to crashing into Ziggy's Bar & Grill: according to police the dump truck driver said he couldn't see the red light because he was blinded by a reflection. According to METRO the dump truck driver was not affiliated with METRO, but he was delivering a load of sand to a METRO subcontractor that was working on the light rail line. FOX News' coverage of the story is available here. Channel 13's coverage, including video, is available here.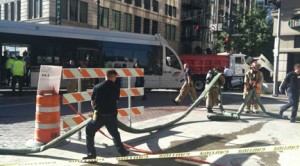 Unsure of how to handle an insurance claim for personal injuries you have suffered in a car accident?  Don't rely on the insurance adjuster handling your claim for advice…they have a conflict of interest! The less adjusters pay on injury claims, the more profitable their company remains. Insurance adjusters want to settle automobile accident injury claims as quickly as possible so they can cut-off the insurance company's liability for additional medical bills and close their file.  Since Smith & Hassler was founded in 1989 by Michael Smith and Al Hassler, this law firm has practiced exclusively in the area of personal injury and has handled thousands of car accident injury cases.  Call Smith & Hassler for a free consultation AS SOON AS YOU CAN AFTER YOUR CAR ACCIDENT—get advice from someone with your best interests at heart.  There is no charge for an initial consultation with one of our personal injury attorneys.
Dump Truck Derails METRORail in Downtown Houston: MyFoxHOUSTON.com