Jose Olivarez charged in deadly accident on W Sam Houston Tollway
Jose Olivarez, a 32-year old undocumented immigrant from Mexico, has been charged with criminally negligent homicide in connection with a high-speed crash on the W. Sam Houston Tollway near Bellaire Boulevard yesterday. According to the Harris County Precinct 5 Constable's office, Olivarez was driving at high speed in his SUV when he lost control of the vehicle, hit a wall, then a toll booth light, then another wall and finally an SUV in the EZ Tag lane.  The SUV struck by Olivarez flipped over, killing the man driving the flipped SUV.  The man's wife who was with him in the vehicle reportedly was not physically injured. Officers placed Olivarez in custody on discovering he was uninsured and did not have a driver's license. A female vehicle in Olivarez' vehicle fled on foot.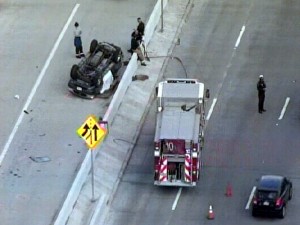 Our hearts go out to the poor lady who lost her husband in this avoidable tragedy.  ALWAYS ensure you are driving at a safe speed for Houston's busy roads and stop/start traffic conditions.