Mike Grayson charged in deadly accident with horse drawn carriage
Mike Grayson
of Conroe, Texas has been charged with intoxication manslaughter and three counts of intoxication assault in connection with a
crash
at the intersection of
21st Street and Avenue L in Galveston
. At around 11:00 p.m. Saturday July 21st Grayson's black sedan struck a
horse-drawn carriage
,
killing one person
and injuring four others. Police say 21-year old Grayson attempted to flee the
accident
scene but was kept there by witnesses until the police arrived. At the time of the accident Grayson told police that he had been on medication: he failed a sobriety test and later admitted he had been
drinking
. Four people in the carriage were transported to the hospital where one victim died. One witness said the carriage rolled over three times, finally coming to rest on top of Grayson's car. Grayson's bond has been set at $250,000.
Channel 2's story is here
.
Channel 13's story is here
.
Galveston Daily News' story is here
.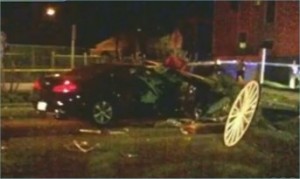 Tags: drunk driver, Galveston, horse drawn carriage, Mike Grayson