Minivan hits motorcycle on Highway 99 in Katy near Mason Road
A man riding a Yamaha motorcycle was seriously injured last night in an accident on Highway 99 near Mason Road in the Katy area at around 9:00pm. The accident happened when a minivan failed to yield the right-of-way to oncoming traffic and struck the motorcycle. The motorcyclist, identified as a 29-year old man, slid along the road and crashed into a median. He was taken via life flight helicopter and listed as in serious but stable condition. Channel 13 News' story is here.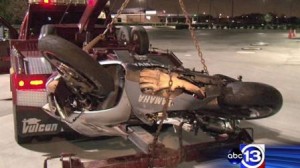 Smith & Hassler has helped hundreds of injured motorcyclists recover their damages from motorcycle accidents. If you have been injured in a motorcycle accident and you are not sure of your legal rights or what the at-fault driver's insurance company should compensate you for, contact Smith & Hassler and speak directly to an experienced personal injury attorney.
Tags: accident, crash, Highway 99, injured, Katy, minivan, motorcycle, Yamaha