Nissan Pathfinder driver flees scene of fatal accident at Fondren and Harwin
A 56-year old man was killed last night in a major hit-and-run accident at the intersection of Harwin Drive and Fondren Road, and police are looking for the female driver who caused the deadly crash.
Houston police say a woman was driving a newer model silver-colored Nissan Pathfinder SUV at around 2:00am last night when she ran a red light at the intersection, t-boning a red pickup truck that was waiting to make a turn on Fondren Road.  The Pathfinder was apparently speeding because the impact was sufficient to shove the red pickup truck through the intersection and flip it onto its roof.
Investigators say the woman driver briefly checked on the 56-year old man who was trapped inside the pickup truck. Instead of helping the man she had just crashed into, the woman and her male passenger fled the scene on foot.  Houston Police Department is confident however that they will be able to identify the woman who was driving the Pathfinder.  Sergeant D. Thomas with HPD told reporters that they have fingerprints lifted from the Pathfinder and also DNA from the driver and passenger side airbags which deployed in the wreck.
Emergency responders tried to save the trapped man inside the pickup truck but he had already died from his injuries.  The name of the man in the pickup truck has not yet been released.
If you have information that may help police identify the driver of the Nissan Pathfinder or her passenger, please call the HPD hit and run unit at 713 247 4065 or Houston Crime Stoppers at 713 222 TIPS.  Crash investigators believe the couple in the Nissan Pathfinder fled because they had just left a nearby club and the woman was probably driving while intoxicated. The woman is described as Hispanic and between the ages of 20 and 25.
This is an absolute disgrace: hopefully HPD will get the driver of the Pathfinder quickly identified and in custody. Our sympathies to the friends and family of the victim in the red pickup truck.
Channel 11's report is here. Channel 13's report is here. FOX News' report can be read here. Channel 2's coverage of the hit-and-run is here.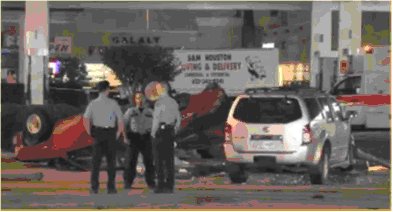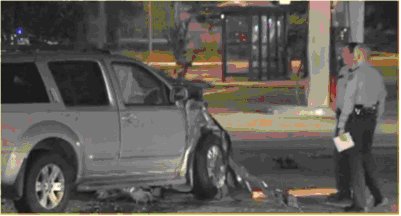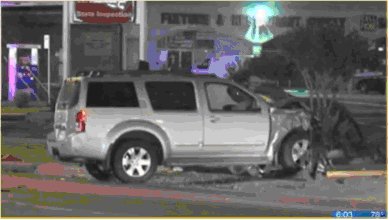 Tags: Fondren, Harwin, hit-and-run, Houston, Nissan Pathfinder, pickup truck