Police chase on Northwest Freeway ends with rollover
Channel 13 News is reporting a police chase last night involving a 7-year old and 3-year old child. The sequence of events began just before 9:00pm at an apartment complex on Blackhawk. According to investigators, a husband and wife were arguing so the wife went to a friend's house to escape the situation, but she still felt threatened by the husband so she called for help. When police approached the husband in his SUV he took off with his three and seven year old children in the back seat. Instead of stopping for deputies, the man fired shots at them. This then turned into a vehicle pursuit on the Gulf Freeway: during the pursuit the man was on the phone with his wife, threatening her. After briefly evading police the man's black Chevrolet Tahoe SUV was spotted about 20 minutes later. The man had flipped the SUV at the Gulf Freeway and Clear Lake City Boulevard. The news report indicates the children were not seriously injured in the rollover accident.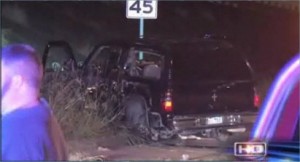 Did you know…? In a single-vehicle accident where one family member is driving and another family member is injured, the injured family member can still make a claim under the insurance policy on the vehicle, however under the terms of the insurance policy, the amount the injured family member can recover is typically limited to the state required minimum liability limits for bodily injury. In the Texas the current minimum liability insurance all driver's must carry for bodily injury or death caused to another person is $30,000. If you have been injured while riding in a family member's vehicle and your family member was at fault, call Houston injury attorneys Smith & Hassler for an explanation of how such an insurance claim against a family member works.
Tags: police chase, rollover, Tahoe