Sheriff deputies injured in car accident at FM 1960 and Veterans Memorial
Two Harris County Sheriff's Deputies were injured in a car accident January 1, 2013. HCSO said the accident happened at around 4:00 p.m. at the intersection of FM 1960 and Veterans Memorial. The deputies were on their way to join a vehicle pursuit when a citizen made an illegal u-turn, colliding with the police car and flipping it over. One of the deputies was temporarily trapped. Both deputies were taken to Houston Northwest Hospital. Channel 13's story is here.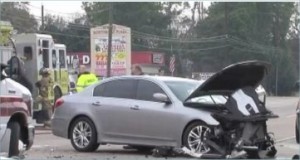 Seeking an experienced personal injury law firm for your motor vehicle accident injury? Visit smithandhassler.com to learn about our firm.
Tags: car accident, FM 1960, Harris County Deputy Sheriff, Veterans Memorial