Street race may have caused wrong way accident on Interstate 45
A man and woman sitting in a disabled vehicle on the shoulder of Interstate 45 near Airtex in Houston were injured in a major collision early this morning and Harris County deputy sheriffs think street racing may be the cause of the accident. The driver of a full-size white pickup truck with custom rims and lowered suspension was apparently racing a second vehicle, when the pickup stopped on the northbound side of the freeway and turned around, heading into oncoming traffic. The front of the pickup then smashed into a disabled green-colored Chevy Trailblazer SUV on the side of the freeway with a man and woman inside. The second vehicle apparently involved in the race has not been located. Police will investigate to see if alcohol was a factor in the crash.
Smith & Hassler helps hundreds of clients resolve automobile accident injury claims each year.  Our firm currently have 29 Google reviews from former clients with an average rating of 4.8/5.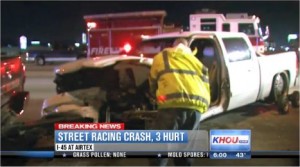 Tags: Airtex, Interstate 45, pickup truck, street racing, Trailblazer, wrong-way accident