Suspected drunk driver rear-ends Houston police cruiser
Channel 13 eyewitness news is reporting that a suspected drunk driver rear-ended a Houston Police Department cruiser on the East Loop last night. Police say the officer was standing outside his cruiser at the time of the collision while he worked to clear an accident scene. The driver of a pickup truck then slammed into the back of the patrol car: the pickup truck driver failed a field sobriety test and was arrested at the scene on suspicion of driving while intoxicated. A picture of the wrecked police cruiser is below: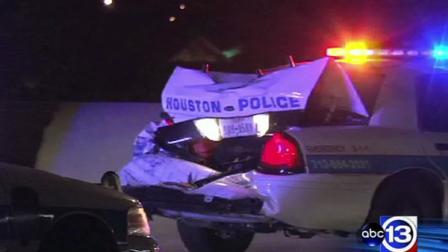 You have to wonder how intoxicated a person has to be to slam into the back of a stationary police car with emergency lights flashing. A very similar incident occurred in December 2008 when an intoxicated driver of a tow truck rear-ended a Harris County Sheriff's Deputy working an extra job providing security to a construction road crew working on the US-290 service road. Smith & Hassler represented the deputy who sustained a low back injury in the collision. After a lawsuit was filed against the intoxicated driver and the towing company, the case settled for a confidential amount.  If you have been injured due to the selfishness and gross negligence of a drunk driver, consider calling Smith & Hassler right away: insurance companies realize injury accidents involving drunk drivers have a higher value and try to settle these claims quickly, and for less than the true value of the claim.