SUV driver pins men on I-10, charged with intoxication assault
The driver of a Toyota SUV has been charged with intoxication assault after a collision on Interstate 10 near Eldridge last night. At around 9:30 p.m. two men were standing between two vehicles stopped on the side of the road; the driver of an older model Chevy Camaro was experiencing car trouble, and a friend he called for assistance arrived in a sedan and parked behind the Camaro. As the men stood roadside, the Toyota SUV veered off the road, pinning the men between the sedan and the back of the Camaro. Both men were rushed to hospital with serious leg injuries. Channel 13's story is here.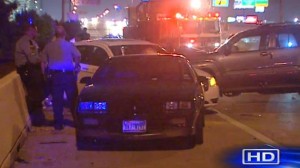 Information regarding personal injury claims for drunk driving accidents.
Tags: Camaro, drunk driver, Eldridge, Interstate 10, leg injuries, Toyota