Taxi driver charged in death of Sandra Smart and Dorothy Britton
Smith & Hassler previously reported on the tragic accident in North Houston on Friday July 15 involving a Houston Yellow Cab taxi colliding with the rear of a stopped 18-wheeler. The driver of the Yellow Cab has since been charged with criminally negligent homicide in connection with the deaths of his two passengers, Sandra Smart (aged 56) and Dorothy Britton (aged 84). The driver of the taxi cab, 56-year old David Houston, reportedly suffered minor injuries in the collision, which happened around 5:00pm on the Eastex Freeway near Laura Koppe road.
Reportedly Houston was driving the Yellow Cab minivan way too fast for the road conditions immediately before the collision occurred, and was weaving in and out of traffic according to witnesses. METRO police department is assisting with the investigation of the deadly wreck, as both Sandra Smart and Dorothy Britton were METROLift patrons and were being transported home after receiving dialysis services as part of a contract between Yellow Cab and METROLift to provide such services. Houston posted $100,000 bail and was out of jail as of Saturday.
Although Yellow Cab owned the vehicle Houston was driving, they will likely take the position that Houston himself was an independent contractor of Yellow Cab and not an employee. Yellow Cab's career page states it is seeking drivers with a "great driving record." METROLift's web site states that: "It is important to us that patrons know METROLift is a shared-ride public transit service, not a taxicab service."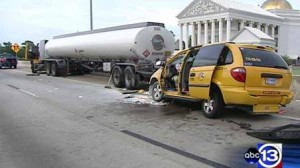 Our sincere sympathies to the friends and families of Sandra Smart and Dorothy Britton on their loss.