Texas Disposal Systems truck accident kills Brein Bullock, injures mother
12-year old Brein Bullock was tragically killed and her 35-year old mother Leah Bullock was seriously injured when a Texas Disposal Systems truck struck a highway overpass bridge in Sealy, TX yesterday.
The truck was traveling on Highway 36 around 10:00 a.m. with the trailer boom raised when it struck an Old Highway 90 bridge. The rubble fell onto the Bullock family's white-colored car. Brein, who was sitting in the front passenger seat, was dead at the scene. Leah was transported by helicopter to Memorial Hermann Hospital. Also in the vehicle was 9-year old Breanbon Gardner who was riding in the back seat and appears to have been uninjured.
There is a bridge height warning sign in place that the truck passed through prior to hitting the bridge. A witness driving behind the Texas Disposal Systems truck saw the vehicle hit the warning sign and keep going, and was filming the truck with a GoPro camera when the incident happened. The truck driver has been identified as 72-year old Carl Weige.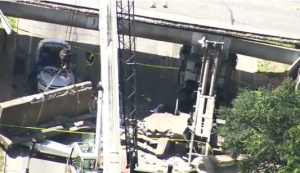 Tags: Breanbon Gardner, Brein Bullock, bridge, Carl Weige, Highway 36, Leah Bullock, overpass, Sealy Texas, Texas Disposal Systems