Five vehicles involved in a collision on Interstate 45 HOV lane
Channel 2 News is reporting a serious accident during this morning's commute. Four vehicles were involved in a crash at around 8:30am on the Interstate 45 northbound HOV lane near the West Mount Houston road exit. Images from FOX News' helicopter show several large vehicles including a light blue colored commercial van.
Update: KHOU has released a report on this collision indicating the accident happened when the blue van rear-ended a white van, which caused the white van to flip over and land on a red vehicle. The jaws of life were apparently used to extract a teenage victim from one of the vehicles. The injured were transported to Northwest Memorial Hermann Hospital. The KHOU story does not refer to any of the vehicles involved driving the wrong way.
A story on Channel 2's website about the crash states that officials had originally thought it was a wrong way crash because two of the vehicles involved came to rest facing one another. Channel 2 said that one man who was extracted from the wreck suffered a broken arm and broken ribs. A story on the Houston Chronicle's blog provides a clear pictures of the blue van, which appears to belong to Crestmark Construction Services: Crestmark Realty is located on Shepherd Drive in Houston.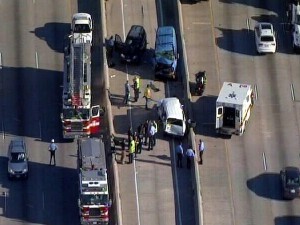 If you, a friend or a family member have been injured in a car accident, Smith & Hassler's experienced personal injury attorneys are available to give you a free consultation either in-person or by phone.  Sometimes people injured in car accident wait before consulting an attorney. They have good intentions: not wanting to seem "sue happy," waiting to see if their injuries will get better or because an insurance adjuster is discouraging them from seeking legal advice (that happens).  It is better to know your rights early in the process and have an experienced Houston personal injury attorney explain the steps involved in car accident injury claim and what you can do NOW to increase the chances of a good outcome.