Two seriously injured in car accident at 610 South Loop feeder and Kirby Drive
FOX News is reporting that firefighters had to rescue a driver and a passenger after a major two car accident at the 610 South Loop feeder road and Kirby Drive. The accident happened around 10:30pm on Wednesday May 23rd. The driver and passenger were traveling in a silver car eastbound on the 610 feeder when the silver car passed through a red light, causing a collision with a red SUV heading southbound on Kirby. The silver car was impacted on the driver's side. The occupants of the silver car were taken to Ben Taub in serious but stable condition. According to the FOX News article, the driver of the red SUV was not hurt.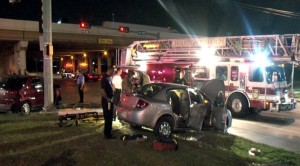 Each year Smith & Hassler helps hundreds of clients resolve their automobile accident injury claims in Houston and throughout Texas. Google "Smith & Hassler" and read online reviews from former Smith & Hassler clients.
Tags: car accident, Kirby, South Loop