William Thomas Johnson charged with intoxication manslaughter for Eastex Freeway crash
William Thomas Johnson, 48, of Houston has been charged with intoxication manslaughter for his involvement in a multi-vehicle crash Wednesday that claimed the life of a 43-year old man driving a Volkswagen Jetta (see our previous blog post on the crash). Police say Johnson was drunk when he ran a red light crashing into the Jetta and striking other vehicles also. The pickup initially struck the passenger side of the blue Volkswagen Jetta, then struck three other vehicles that were heading westbound on Tidwell.
The crash happened at the intersection of the Eastex Freeway service road and Tidwell. Johnson reportedly was traveling at considerable speed when he entered the intersection: one witness estimated Johnson's speed to be between 60 and 80 MPH. Video footage on Channel 11's web site shows a newer model silver-colored pickup truck truck flipped over onto its passenger side, though it is not clear if that flipped truck is Johnson's or one of the motorists he struck.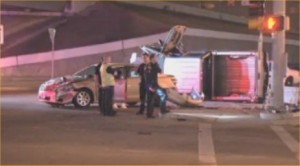 For more than 23-years Smith & Hassler has represented the victims of intoxicated driving. If you have suffered due to a drunk driver's selfish choices we want to help.
Tags: drunk, Eastex, Volkswagen Jetta, William Johnson