Bellfort and Scott car accident send 8 to hospital
According to a Channel 13 News report, an SUV driver who was allegedly speeding away from the scene of an accident caused a chain reaction collision that sent a total of 8 people to the hospital. One of those injured was a 10-year old. The accident happened at around 10:30pm on Bellfort at Scott Street on the west side of Houston. According to witnesses, the driver of an SUV was speeding away from a different car accident when he crashed into two cars waiting at a red light and also bumped a third vehicle. The SUV flipped over and the cars he hit were pushed into the intersection. Firefighters had to cut into the SUV to rescue the alleged hit-and-run driver. A total of 8 people were transported to the hospital, one of them in critical condition. According to police it did not appear the SUV driver was drunk or under the influence.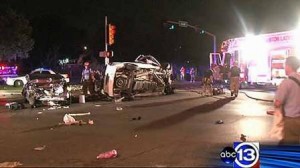 Smith & Hassler's personal injury attorneys have accumulated a wealth of experience in handling all manner of motor vehicles accident over the firm's 23-year history. Contact Smith & Hassler for a no-charge consultation.
Tags: Bellfort, hit-and-run, Scott Street, SUV