Car lands on woman sleeping inside her Airline Drive home
Police suspect drunk driving may be the reason why a car left the southbound lanes of Airline Drive, bounced off a phone pole and pickup truck before plowing into a mobile home, landing atop a woman sleeping in her bed. Harris County Sheriff's Office say the red car was traveling at a high rate of speed before it crashed in the 9200 block of Airline Drive around midnight. Amazingly the woman was transported to hospital in relatively good condition, save for some burns from the hot car. The driver of the car made an attempt to flee the accident scene on foot but witnesses held him down until police arrived. Read Channel 11's report here. Channel 13's report is here.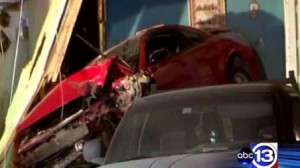 Smith & Hassler's Houston personal injury attorneys have no patience for lowball settlement offers on drunk driving accidents from insurance companies and will aggressively represent clients to make sure they are properly compensated. Don't allow an insurance adjuster to talk you into a small settlement days after an accident, visit www.smithandhassler.com to arrange a free consultation.
Tags: Airline Drive, drunk driver, mobile home