Esther Anderson charged with 2-year old's intoxication assault after car accident
39-year old mother
Esther Anderson
was arrested and
charged with intoxication assault
yesterday after a
single car accident seriously injured
her 2-year old little girl, according to
KHOU Channel 11
. The wreck happened around 4:00 p.m. as Anderson was driving her 2004 GMC Envoy on Carriage Hills Boulevard north of
The Woodlands
when she lost control and struck a tree on the passenger side. Sergeant Angela Fountain with the D.P.S. said the toddler was not secured in the vehicle by a car seat, safety belt or any kind of restraint at all. In fact a witness who saw the vehicle prior to the crash said the toddler was standing up near the center console.
DPS officers found an open can of Busch beer in the vehicle and believe it was resting between Anderson's legs at the time of the crash. Due to the child's injuries, Anderson was subject to a mandatory blood draw: she was held overnight at the hospital and will be taken to jail to face charges of injury to a child and intoxication assault. Anderson's husband showed up at the accident scene: he was questioned by deputies who determined he had an outstanding Montgomery County warrant for child abandonment: he was taken to jail.
Photos taken by KHOU show a 12-pack of Busch beer in the vehicle, and also where law enforcement apparently lined up several empty beer cans on the hood of the wrecked SUV. A story on the
Montgomery County Police Reporter web site
states that, according to Anderson's husband, she had left earlier than afternoon to get a birthday cake for the couple's 9-year old. No birthday cake was in the car.
Car crashes are the number one killer of children aged 1 to 12-years old in the U.S. You can
read on the NHTSA's web site
how to check if your child is in the right car seat.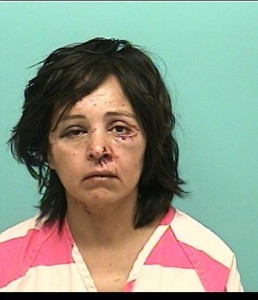 Tags: conroe, drunk driving accident, Esther Anderson, GMC Envoy, The Woodlands