Wilson Avelar charged after 2 killed in car accident and fire on FM 2978 near Tomball
Two people were
killed in a car accident
and vehicle fire early Tuesday morning on
FM 2978
about five miles outside Tomball in southwest Montgomery County. A pickup truck and flatbed truck collided near a curve in the roadway: state troopers say two people riding in the flatbed truck died. The driver of the flatbed truck, 31-year old
Wilson Avelar
, is in the process of being charged with two counts of negligent homicide according to DPS Trooper Erik Burse. According to
Channel 11's story
, the
accident happened
because the flatbed truck, which was pulling a trailer, was
trying to avoid a pickup truck
that was waiting to make a left turn, but the flatbed's brakes locked and the driver swerved, clipping one truck before hitting a Ford F-150 pickup head-on. The flatbed then burst into flames, killing two inside.
According to Section 6.03(d) of the Texas Penal Code
, a person acts with "criminal negligence" when, with respect to circumstances surrounding his conduct or the result of his conduct, he ought to be aware of the substantial and unjustified risk that the circumstances exist or the result will occur. The risk must of such a nature and degree that the failure to perceive it constitutes a gross deviation from the standard of care that an ordinary person would exercise under all the circumstances as viewed from the actor's standpoint.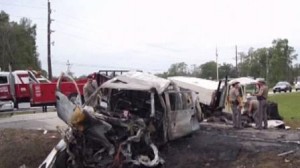 Tags: car accident, criminally negligent homicide, FM 2978, Wilson Avelar