Head on crash on Mykawa injures three, alcohol involvement suspected
The driver of a red pickup swerved out of his lane around 10:00 p.m. Friday night while traveling on Mykawa, then crossed into oncoming traffic causing a head-on collision that injured a man and a 12-year old boy. All three people involved were taken to Ben Taub in serious but stable condition. Police found beer cans in the cab of the red pickup truck so alcohol involvement is obviously suspected as being a factor in the crash.
Channel 11's story on the accident is here.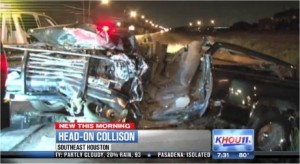 Houston drunk driving accident attorney information
Tags: Carson, drunk driver, head on crash, Mykawa, pickup truck