Police: Dalia Alfaro drunk when she caused deadly car accident
18-year old Dalia Alfaro has been charged with intoxication manslaughter in connection with a deadly car accident yesterday.  Police are saying Alfaro, a dancer at a club called Sin City, was drunk when she left the club after her shift.  Channel 11 News' story notes that Sin City's web site says the club is open from 11:00 a.m. to 2:00 p.m. but the accident happened shortly after 6:00 a.m. on Tuesday morning.
The tragic chain of events was set in motion when a police officer saw Alfaro driving a silver Dodge pickup at 60 MPH in a 35 MPH zone on Westheimer near Gessner. Alfaro allegedly fled from the officer when he attempted a traffic stop, then she crashed into a vehicle at Kirkwood and Westheimer then kept going. Alfaro apparently stopped at some point, but then reversed and took off again.
Disaster struck when Alfaro, doing 85 MPH, ran a red light at the intersection of Eldridge Parkway and collided with a green-colored Mazda 3 then hit the driver's side of a gray Impala.  Alfaro's truck then swerved and hit a concrete truck head-on, ending the pursuit.
The driver of the Impala, only 29-years old, died at the scene.
Police took Alfaro to Memorial Hermann Southwest for minor injuries and was determined to be drunk after a blood draw was taken.  Alfaro is being held on $80,000 bond. Alfaro reportedly has prior convictions for evading arrest, graffiti and possession of marijuana.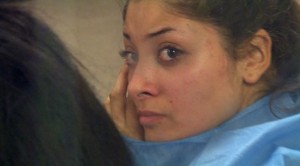 Tags: Dalia Alfaro, drunk driver, Sin City Club