Honda Accord driver dies in West Houston collision at Highway 6 and Pine Forest
A deadly collision is being reported the morning of Sunday November 20th in West Houston at the intersection of Highway 6 and Pine Forest. A Chevy Monte Carlo was heading southbound on Highway 6 at around 7:30am when the Monte Carlo collided with a Honda Accord turning from Pine Forest. The Monte Carlo then slid into oncoming traffic where it crashed into a Nissan Sentra. The Monte Carlo caught fire, however quick thinking workers at a nearby golf course ran to the scene and put out the fire with extinguishers. A man who was driving the Honda Accord was killed instantly. The driver and passenger of the Monte Carlo and the driver and passenger of the Sentra were both transported to hospital to be treated. Police think one of the cars ignored a red light and they are trying to figure out which car was at fault. The Chronicle's report is available here and states the driver of the Monte Carlo passed away at the hospital.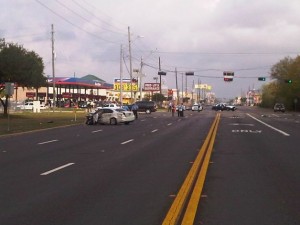 Unsure of how to handle an insurance claim for personal injuries you have suffered in a car accident?  Don't rely on the insurance adjuster handling your claim for advice…they have a conflict of interest! The less adjusters pay on injury claims, the more profitable their company remains. Insurance adjusters want to settle automobile accident injury claims as quickly as possible so they can cut-off the insurance company's liability for additional medical bills and close their file.  Since Smith & Hassler was founded in 1989 by Michael Smith and Al Hassler, this law firm has practiced exclusively in the area of personal injury and has handled thousands of car accident injury cases.  Call Smith & Hassler for a free consultation AS SOON AS YOU CAN AFTER YOUR CAR ACCIDENT—get advice from someone with your best interests at heart.  There is no charge for an initial consultation with one of our personal injury attorneys.