HPD officer escapes injury in car crash while pursuing teens in stolen minivan
Channel 2 is reporting a car accident involving a Houston Police Department officer who was pursuing two teens in a stolen minivan.  The crash happened around 10:15pm on Wednesday September 7: a woman had called police to report that her minivan had been stolen from her driveway. An officer who spotted the vehicle tried to pull it over but the minivan fled: the officer pursued but crashed at a turn at McCarty Road from Mesa. A 17-year old boy and 13-year old girl fled the van on foot but were detained shortly thereafter. Although Channel 2's picture of the police cruiser shows pretty significant front end damage, the report indicates that fortunately the officer was not injured.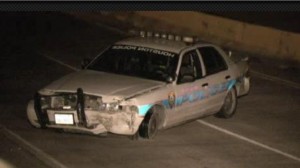 Car accidents commonly result in medical bills, lost income from work and a period of time after the accident when the injured person is in pain and is impaired from performing their normal activities. Texas law allows a person injured in a motor vehicle accident by another's negligence to seek recovery of money damages.  Speaking to an experienced Houston personal injury attorney early in the process can make the difference between a relatively straightforward claim under the other driver's insurance policy and a real nightmare.  Insurance companies will deny or undervalue claims if they have a reason to.  Smith & Hassler's trial-tested Houston personal injury attorneys will provide you with a free consultation regarding your motor vehicle accident injury claim: call now or submit your case online.