Man killed in accident involving USPS 18 wheeler
A 61-year old man driving an SUV was killed in a two-vehicle accident yesterday afternoon. According to the account witness Elizabeth Summerlin gave Channel 2 News Houston, the man's SUV lost control after clipping the back of a United States Postal Service 18-wheeler, causing the SUV to lose control and flip onto its side. The SUV became wedged between the 18-wheeler and the concrete retaining wall, and the SUV became engulfed in flame. Good Samaritans stopped their vehicle, some using fire extinguishers, and tried to rescue the SUV driver. Unfortunately the man was unable to escape the burning SUV and he died at the scene. The crash happened on Houston's Southwest Freeway near the Chimney Rock exit at around 3:00 p.m.
Update 1: the deceased SUV driver has been identified as Dan Winfrey. Mr. Winfrey's sister Donna Griffin was interviewed by KHOU, stating her brother was on his way to collect his girlfriend from her workplace when the accident happened. Ms. Griffin told KHOU her brother was unfamiliar with the area and was using his cellphone to ask his girlfriend what exit he should take; reportedly Mr. Winfrey exclaimed "Oh God" and the phone went dead.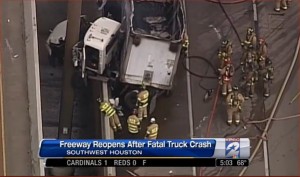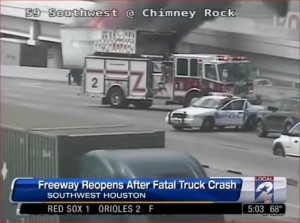 Tags: 18-wheeler accident, Chimney Rock, Dan Winfrey, Southwest Freeway, SUV, USPS