Tire blowout on Eastex Freeway causes fatal minivan rollover
An
accident
this afternoon on the
Eastex Freeway (Highway 59)
at Parker
has reportedly killed a child passenger. Police say a
tire blew out
on a gray minivan causing the driver to lose control before hitting the guardrail, after which the vehicle flipped over several times. A
Channel 13 report
states a child passenger was pronounced dead at the scene, and at least two other children and two adults inside the minivan were transported to the hospital. The occupants of the minivan may have been a family returning from vacation as there was luggage strewn at the crash site.
Channel 2's story is here
.
Channel 11's story is here
.
FOX News' story is here
.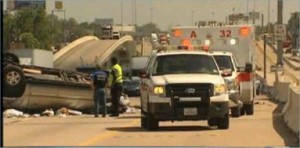 Tags: Eastex Freeway, minivan, rollover, tire blow out