Chavon Frank charged with intoxication manslaughter in W. Fuqua hit and run
Sadly there is yet another drunk driving accident fatality to report in Houston. Last night a woman driving a Toyota Corolla westbound on W. Fuqua at White Heather in southwest Houston around 9:15pm hit a young man and woman crossing the street: the driver of the Corolla ran a red light immediately before striking the couple. Shockingly, after striking the pedestrian the Corolla driver dragged the female for an additional 50-yards before coming to a stop. Rather than check on the people she had hit, the driver then jumped out of her car near Hiram Clarke and tried to run into a wooded area, but fortunately a witness chased her down and detained her until police arrived. Family and friends of the victims were present at the scene and were extremely emotional as they tried to learn if it was their loved ones who had been struck, but police officers would not allow them to get close to the crime scene. A young man asked a witness if the female who was struck was wearing a gray jumper: when he was told she was, the young man fell to the ground crying. The male and female who were killed were both in their 20's.  The driver of the Toyota Corolla was taken into custody by police on suspicion of drunk driving, is currently in jail and is facing two counts of intoxication manslaughter. A story on Channel 2's web site identifies the driver of the Corolla as 30-year old Chavon Frank. The dark gray-colored Toyota Corolla shows heavy front end damage: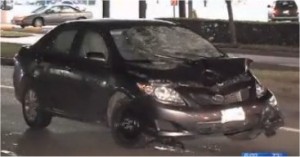 What a terrible loss for the family and friends of the two innocent victims of the this driver's selfish decision to drive drunk. FOX News' story is available here. Channel 13's coverage of the drunk driving accident is here. The Houston Chronicle's story is here. Channel 2's coverage is here.
Driving While Intoxicated (DWI) car accidents seem to happen every single night in the Houston area and throughout Harris County.  Sadly Harris County Texas ranks among the highest counties in the nation for drunk driving fatalities and drunk driving accident injuries year after year.  Drunk driving car accidents often create even more complications for the victim than a regular car accident: insurance companies usually won't pay a claim or provide a rental car until they speak to their insured driver and get their version of what happened. The insurance company can't do that if their insured was charged with DWI and is in jail. Call Smith & Hassler if you have been injured by a drunk driver's gross negligence and ask for speak to one of our personal injury attorneys right now.  Smith & Hassler aggressively pursues claims against drunk drivers.