Woman flees after causing motorcycle accident on Katy Freeway feeder
A woman crashed her car into the back of a motorcyclist then fled on foot, leaving her passenger behind. The accident happened around 9:15 p.m. after which police arrived to find a motorcyclist lying on the ground on the Katy Freeway service road at Studemont. Police say the motorcyclist was stopped for a red light when the car ran the light and struck the motorbike. The motorbike rider was thrown into the windshield and onto the ground: he was transported to the hospital in critical condition. According to police, the woman got out of her car and ran away leaving her boyfriend behind in the passenger seat.
Channel 11's report is here
.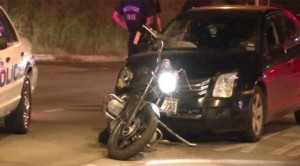 Tags: Katy Freeway, motorcycle accident, Studemont